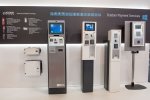 UNICODE SYSTEMS s.r.o. is a strictly Czech company with more than 25 years tradition, which for business partners develops information systems for filling stations of various fuels. Approx. 4.000 filling stations in 11 countries are in operation.
Company is focused on supplying of control systems for private filling stations, CNG stations and network of corporate companies or washing centres as well.
Integral parts of supplies are mainly fuelling automatic machines range Card Manager specified for self – service selling of fuels and CNG at public or corporate transport companies filling stations, alternatively at self – service washing centres, recharging stations or technologies for oil management.
Among exhibits you will see:
Control system for public filling stations – EUROSHOP
Self – service fuelling automatic machines, range Card Manager
Central control system for network of filling stations
Technologies and services for filling stations of various fuels, CNG, washing centres, electro recharging stations etc.
Team of UNICODE is ready to answer yours questions at stand in the Hall 3.
---